It's a sure sign that things are bad when the prospect of two days with hubby's iPad all to myself can't keep me away from home!
My life is currently being interrupted, by pain. Lots of pain.
I didn't really realize to what extent that is until I left the Problogger Training Event partway into the second session on Day 1 – after less than two hours of being there, and having spoken, so briefly, to only two other bloggers – and returned home to deal with my pain and anxiety (and yes, a few tears) quietly on my own.
For so many reasons I was looking forward to this year's Problogger conference.
I was so excited back in May this year when I bought my ticket to attend the PB Event for the second year running.
I've been looking forward to this for months now. Looking forward to the opportunity to meet other bloggers that I've connected with on Twitter or on their blogs, and to getting two day's full of new ideas and inspiration for The Inspired Notebook…
Really, just excited at the prospect of being in a room filled with bloggers. And with people who 'get' blogging. It was said to me only a couple of days ago that blogging is 'another world', a 'bubble'. But today's Problogger Event was filled with over 300 people who know that if blogging is a bubble, then it's a VERY BIG one. And that it's only likely to get bigger. And no, it's not going to pop!!
So I'd marked all the sessions that I hoped to attend. And was eagerly anticipating seeing keynote speaker, Chris Guillebeau (creator of The Art of Nonconformity, the World Domination Summit and author of The $100 Startup). Not to mention, Darren Rowse going through with his challenge to 'Do It in a Dress'!!
As excited as I've been, I was anxious too.
Which is nothing unusual. I think we all get anxious when it comes to huge conferences filled with people we don't know.
Of the 300 bloggers attending this PB Event, many will have had some degree of anxiety – particularly as it seems the blogosphere is made up of plenty of introverts!!
But as well as the usual pre-conference nerves, I've been anxious about my current level of feet, back and hip pain, and how I'd manage two days of sitting, standing and commuting… Things I used to take for granted. Before my pain started. Before my pain got way out of control.
The health professionals who've been fortunate to get my time, energy… and money!
I've had chronic pain before. After the birth of our 'baby', who's now 10, I experienced hip and back pain for at least five years as a result of pelvic instability. For all of those years, I did the rounds of health professionals, including physios, osteopaths, chiropractors, with little or no relief. I even saw a hip specialist who charged me $125 for the three minutes it took to tell me that I didn't need to see him, he couldn't help me.
Eventually, after so many health professionals – and so much money! – I found a local sports injury physio who was able to help me when no-one else had. And gradually my pain improved, and my visits became further and further apart.
When my feet started to ache at the end of 2008, and along with them my hips and back again, I was back at the physio. But also, at the podiatrist, getting a pair of orthotics that (after a few adjustments) completely sorted out my pain. After months of not being able to get out walking each day, it was an awesome feeling to be able to enjoy walking again!
Three years, according to my physio records, without needing hip and back adjustments. Without pain.
Until my feet started to ache again earlier this year.
For the past three or four months, I've been back and forth to the podiatrist, physio, doctor's, and to clinical pilates sessions, trying to resolve my pain before our recent trip to Queensland. The number of trips alone was exhausting!
Several months after my pain began to flare up again, I'm now on my third pair of orthotics. Every adjustment makes a difference to my muscle pain, but so far the orthotics are still not 'right'.
My life, interrupted!
As much as I don't like to talk about my pain, and hate hearing myself whinge, lately it's been hard not to. It's started to affect everything.
I've had to cancel trips to my bestest friend's, and to my parents', because driving and sitting in the car is too painful. I've had to continually tell my MIL that I can't get down to have lunch with her – because of the driving, but also because I'm too busy with all these health appointments.
I missed the opportunity to see my new baby nephew, because there's no way I could've managed the drive we'd originally planned for our holiday from Brisbane to Melbourne, via Sydney to visit my brother.
It hurts to do housework. Which wouldn't worry me too much! But it also hurts to sit at the computer, working on my blog. And that really worries me.
I'm spending a small fortune trying to resolve what I'm sure is resolvable. But getting increasingly anxious as the pain gets worse and I seem to be getting nowhere.
Now my pain (and the anxiety that goes with it) has again kept me from being somewhere I REALLY wanted to be. And from enjoying this conference that I've been so looking forward to.
That's got to be the last straw!
It's not easy explaining pain to the people you love – and who love you.
How do I explain to a 10 year old, who's not expecting to come home from school and find me here? Not that he doesn't love me, but that this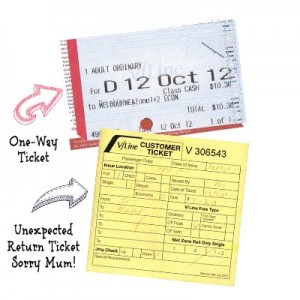 beautiful boy tells me every morning as he leaves for school, "Make sure you do something you love today Mum, something for yourself".
How do I tell him that I had a dizzy spell and felt like I was going to throw up. And that it may have been just anxiety, or the physical effects of too much pain, but having thrown up in a public place once before, I'm in no hurry to do that again!!
How do you explain chronic pain, and the anxiety that can come with it, to any of your kids, no matter their age? Or to your hubby – who possibly sees you as an expensive hypochondriac? Or to your mum, when you have to tell her again that you won't be coming to visit, won't be staying the night as you'd planned – and you know you're only going to cry during that conversation?
Not. Giving. Up.
I don't really have an answer.  All I know is that I'm not willing to give up. I'm really sure that if somebody can get the orthotics right for me, all my muscles will get back to doing the right thing, and stay in the right place!
When my pain is keeping me from so many of the things I love – from sewing, from my morning walks, from getting out and seeing friends and family, even from blogging and enjoying my time at the computer, and from being able to enjoy awesome conferences like the Problogger event! – I know I need to do everything it takes to resolve it.
I hoped I might get back for Day 2 of the Problogger Event. There are some bloggers I'd love to meet, or catch up with again: Liz from Last Chance Training, who was the very first blogger to say 'Hi' to me at last year's event!; Kat from The Organised Housewife, who has such a beautiful, helpful blog, and who I smiled at only briefly at in the queue for the ladies'!;  and Grace, who I just quickly spoke to this morning; Kelly Exeter, whose story of changing her life is going to inspire me to change a whole lot of mine (and who creates awesome manifestos at The Smile Collective)… the list could go on…
But I think for now I need to accept the reality of this pain. And of my exhaustion.
At least I know I can enjoy the recordings of the day's events from here at home. And trust that I'll be in a much better place – and back doing everything that I love – by the time the next Problogger conference comes around next year.
For now, am off to dry the tears and sniffles before my baby boy gets home.
Brigid
PS. That iPad of hubby's, that I've now had to give back? Was very useful for writing most of this post on the train trip home. So guess what's now on my Christmas wishlist?!
Do you have your own story of how chronic pain has interrupted and affected your life? For your sake, I hope you don't, but if you do, you can share your story here in the comments.
Bloggers and would-be bloggers:
If you were lucky enough to be at the Problogger event, I'd love to hear how you enjoyed it – and what's the best tip you picked up?
If you didn't get there, you can check out the #PBEvent hashtag on Twitter.