New Year's Resolutions are never easy to keep.
If they were, we wouldn't be making the same ones year after year.
If they were, most of us would be living very different lives.
We women would all be at our ideal weight, looking stunning in our bikinis (purchased with cash, because we're 'debt free'!), and actually using our gym memberships every month of the year.
The men in our lives – the guys with the six pack abs – would have given up the beer and ciggies many New Year's Eves ago.
Our beautifully decorated and organized homes would be a place where we spend far more time with our family and friends – when we're not out learning a language at our local community centre, doing volunteer work and running our incredibly successful blogs and businesses!
But no, New Year's Resolutions aren't that easy to keep.
I gave up making them several years ago myself. Probably around the same time that I gave up starting diets on a Monday!
I never had any great success with making successful, lasting changes beginning on exactly January 1st.
Don't get me wrong. I've made changes. Many of them.
It's just that none of them were a result of the New Year's Resolutions I made year after year.
It wasn't New Year's Day when I finally decided that I was ready to give up smoking. It may have actually been July 4 though – which of course is "Independence Day" in the US. But if it was, it was purely coincidental!
That's not to say either that I don't have goals for 2012, because I do.
I've really been looking forward to this year, to a fresh start, and the chance to make some big changes that will support me in pursuing both my business and personal goals.
Here's just a few of the things I hope to achieve in 2012:
Organizing to have a barn built on our property in order to make more space for hubby's business and my own business dreams.
The creation of two eBooks, one as a gift to subscribers of The Inspired Notebook, and the other…? A project that I'm so excited about, but you'll just have to wait and see!
The creation of a charity project to raise $10000 for women suffering from the indignity of obstetric Fistula.
Building my endurance from being able to swim about 40m without stopping for a serious rest (which is a little embarassing to admit!) to being able to swim first 500m then 1km, continuously.
I've been inspired by several posts I've read from bloggers who are starting 2012 with 3 words to define and guide their choices for the coming year. You can read the original inspiration for this in Chris Brogan's post here.
For me, the three words I choose to define my path for 2012 are:
Nurture        Create Give
All of which fit in with my 'theme' for 2012, which is to 'Make time and space for those things that make me truly happy' (including the 56 things that make me smile).
What about you? Did you make New Year's Resolutions for 2012? Have you kept them?
Do you have goals for 2012? Or do you prefer, like Leo Babauta and Jeff Goins, to live without goals, without a plan, but to just work on the daily habits that will bring you happiness and success?
No matter what your approach is to creating your best year ever in 2012, there's so much inspiration, encouragement and ideas to be learned from reading the experiences of others.
With that in mind, here's a reading list of books**, blogs and other resources to help you with those changes you want to make – no matter what day of the year you begin!
Firstly:

3 awesome worksheets that will help you plan for an amazing year:
Could you use a boost to your confidence and self-esteem? Do you need to change your mindset if you're going to believe that you can achieve your dreams?
Books:
Blogs / websites:
Are you looking for ideas on how to create your goals? And on creating the habits or action steps you'll need in order to achieve them?
Books:

Do you need some help with time management, productivity and overcoming procrastination?
Books:
Blogs / websites:
Is it time to declutter and get your home organized?

Books:

Blogs / websites:
Are you looking for inspiration to lead a more creative life?
Books:


Blogs / websites:
Do you need help determining your passions, and inspiration to spend more time pursuing what you love?
Books:

Blogs / websites:
Do you want ideas on how to grow your creative or handmade business?
Books:
Blogs / websites:
Could you use some inspiration and ideas from other entrepreneurs about how to successfully grow your business?
Books:
Blogs / websites:
Would you like to learn how to use social media platforms like Twitter, Facebook and blogging to successfully grow your business?
Books:

Blogs / websites:
Further Reading:
Do you want to get healthy and lose your excess weight? Do you need help to deal with emotional eating and compulsive overeating?
Books:
Blogs / websites:
Do you need ideas for how to get out of debt and get your finances under control?
Books:


Blogs / websites:
Have you tried to quit smoking before but it hasn't worked?
Books: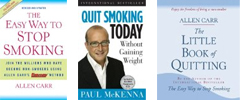 Further Reading:

I hope that gives you some ideas for your own 2012 reading list and some places to start with planning your own success this year!
I'd love for you  to share your favourite (and most helpful) books and websites here in the comments. What have I missed? What hidden gems have you found in your bookstore or here on the internet?
In the meantime, happy reading!
Brigid
* These books are currently on my Reading List to be read early in 2012. While I usually prefer not to recommend books I haven't yet read, all reviews suggest that these are well worthy of recommendation here!
** All product links in this post are to Amazon, where you can read further details and reviews of the listed books. 
Image Credit:  kira.belle on flickr