Four weeks ago, my experience at the Problogger Event felt kind of momentuous and life-changing. I wrote here that I was 'finally feeling like a blogger'. And still, three weeks have somehow passed since I wrote my last blog post.
I get little anxious pangs when I look at the date of my last published post. Because I REALLY want to be writing here so much more often.
BUT… I've still been busy doing 'bloggy' things! And (this is the most important thing, isn't it?) having so much fun doing it as I work on creating a life I LOVE!!!
Over the last couple of weeks, I've been working like crazy to get my first ever ebook, 7 Days of Gorgeous Green Smoothies, published.
And it's finally here!!
If you're following Gorgeous Green Smoothies on Facebook, you may already have seen 7 Days of Gorgeous Green Smoothies and downloaded your copy.
If not, you can get your free copy now by signing up to my Gorgeous Green Smoothies mailing list below.
Green smoothies are my favourite 'productivity tool', as well as being an awesome addition to your daily diet if you're wanting to lose some weight and get healthy. This little ebook is an introduction to what green smoothies are, what's so great about them, and how to get started drinking green smoothies yourself.
In 7 Days of Gorgeous Green Smoothies, you'll learn a bit more about my green smoothie story, and you'll get seven of my most gorgeous recipes including recipes for Green Smoothie Lemonade, Green Brekkie Pudding and Green Strawberry Icecream. You'll also get seven gorgeous journaling pages (that you can print off to record your own green smoothie experience).
Here's a sneak peek: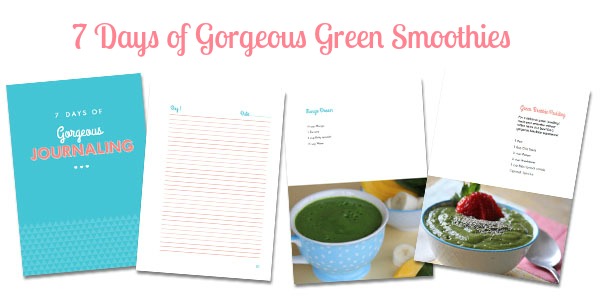 If you're even a little bit curious about green smoothies or what gorgeous recipes you'll find in my ebook, you should definitely get a copy!!
What are you waiting for? It's FREE!!
I hope you love it! And make sure you come back and tell me what you think! I'd love to know which recipes you've tried, what you loved, whether you found the journaling pages helpful… any thoughts or feedback you have, I'd love to hear from you!!