I love doing book giveaways here at The Inspired Notebook. It's so much fun!
The only negative for me is not being able to reply to all of your awesome comments, because that would totally mess up my system of drawing the winners. (And believe me, the less mess around here, the better!)
But I've really enjoyed reading your comments on my Blogiversary Giveaway post.
Thanks so much for sharing all of those things that you're passionate about. I hope that you'll find inspiration here at The Inspired Notebook to pursue those passions, as well as encouragement from knowing that other readers are doing the same.
So I'm sure you're wanting to know: who are the lucky winners?
Here are the two winning comment numbers*, chosen by Random.org :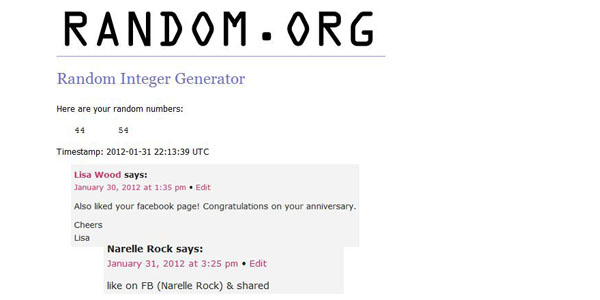 Congratulations to Lisa and Narelle! I've sent you both an email, and if you let me know your mailing address and which book you'd like, I'll get those sent out to you in the next day or two.
Thanks to everyone who entered this time 'round. If you weren't one of the winners, be sure to have another try in my next giveaway!
Look out next week for the  results of my January Creativity Challenge, and some ideas for creating something beautiful for home this month!
Until then, take care,
Brigid
*My apologies that I still don't have numbered comments here. If anyone knows of a good WordPress plugin for that, please let me know! So far, I haven't found anything – and am a bit hesitant to mess with the CSS code, in case I trash my blog!!